Gaby Molina has joined the Connecticut Health Foundation as our communications officer. She will oversee the foundation's online communications presence, including the weekly news roundup. Get to know Gaby below!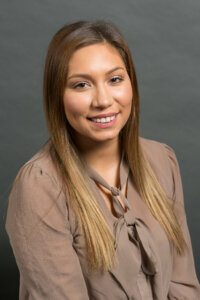 Where were you before joining the Connecticut Health Foundation?
I worked for FOX61 News in Hartford for six years. The last four were as an on-air reporter, covering a variety of topics for the daily newscast. The two years before that I worked as a news producer for the morning show. In that role, I wrote scripts and created visuals for an hour-long newscast.
Why are you interested in the foundation's mission?
I immigrated to the U.S. from Ecuador with my parents in 1996. Growing up in Connecticut, I saw how crucial access to certain health programs were for my family (HUSKY, WIC, etc.), as well as access to doctors who spoke Spanish. In my previous role as a reporter, I worked through the COVID-19 pandemic, seeing firsthand the inequities it shined a light on in our state. The pandemic also highlighted the importance of community health workers and the need for them. These experiences fuel my desire to create change to make Connecticut a more equitable state for everyone.
What are you most excited about from the 2024-2028 strategic plan?
All of the foundation's goals are important but I am really looking forward to working on addressing maternal health equity for people of color. This is an area where there are significant health disparities. A new initiative for the foundation, I think it will be an opportunity to listen to and learn from those who are impacted.
How can we contact you?
You can reach me be email at gaby@cthealth.org or by phone at (860) 724-1580 x 133.