HARTFORD, Conn. (June 29, 2020) – The Connecticut Health Foundation elected Kenneth R. Alleyne as chair of its board of directors. He succeeds David I. Newton in chairing the board of Connecticut's largest independent health philanthropy.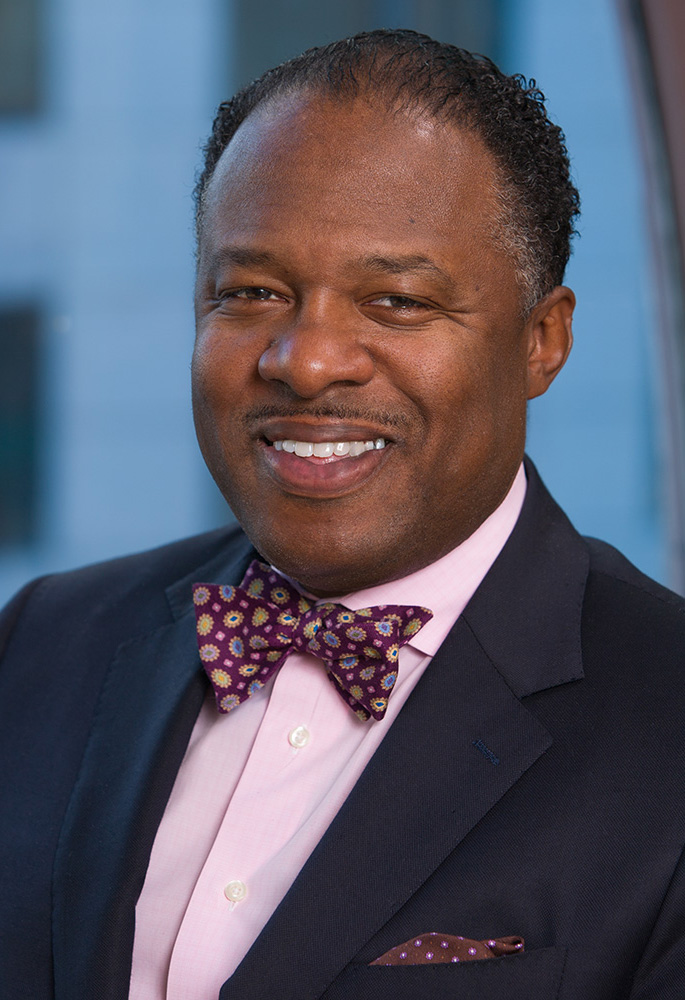 Alleyne, of West Hartford, is a sports medicine orthopedic surgeon practicing in Connecticut and Manhattan. He is the co-founder of Zing Health, a Medicare Advantage plan, and HartHaven Partners, a health care investment firm. He is a member of the board of the UConn Health Center, Connecticut Public Television and Radio, and Louis Armstrong Education Foundation. He served on the Community Committee of the state's Reopen Connecticut Advisory Group.
Alleyne is a graduate of Williams College and Wake Forest University School of Medicine.
"It is a tremendous honor and sober undertaking to chair the foundation at this time of pandemic that has disproportionately affected Connecticut's minority and low-income communities," Alleyne said. "As been our history, we will continue to focus on the improvement to challenges of health care access, equity and justice. Our goal continues to be the elimination of health disparities for the next generation of Connecticut residents."
In addition to electing a new chair, the foundation board appointed two new members and awarded $342,025 in grants this quarter.
The two new board members are:
Hector Glynn is the Chief Operating Officer for The Village for Families and Children, where he has served in several leadership positions since 2007. At The Village, Glynn developed wide-ranging expertise in developing and overseeing a variety of programs and administrative support systems. He has been engaged in several statewide advocacy initiatives and is recognized as an expert on issues related to children and families. Before joining The Village, Glynn served as director of youth services for Catholic Charities and executive director of the CT Juvenile Justice Alliance. He has a master's degree in social work from UConn.
Dennis Torres is a longtime advocate for appropriate and accessible care. He serves as Chief Health Officer at Family Centers Inc. in lower Fairfield County, where he oversees outpatient medical, dental, mental health, and supportive health-related services from their federally qualified health center and six school-based health centers. He also oversees HIV service coordination and provision, nurse consulting for early childhood centers, and multiple health and wellness initiatives. He has taught bachelor's and master's level social work courses in cultural diversity and inclusion. Torres is a graduate of Fredonia College and received a law degree from Pace University and master's degree in social work from Columbia University in New York.
Grants awarded
The foundation awarded 10 grants, totaling $342,025.
Center for Children's Advocacy, Hartford: $65,000
This funding will support the Center for Children's Advocacy in its work on two projects: Expanding state-funded Medicaid to cover undocumented children under age 19 and advocating for behavioral health screening and responsive interventions for post-traumatic stress symptoms in children resulting from the COVID-19 crisis.
CT Students for a Dream, Bridgeport: $50,000
This funding will support advocacy work by CT Students for a Dream, a statewide network that supports the rights of undocumented youth and their families. The organization's #LiveUnafraid campaign is focused on ensuring that all state residents have access to health care coverage regardless of immigration status and on expanding access to Medicaid.
The following two grants were awarded as part of a request for proposals for diverse grassroots organizations to advocate for reducing the uninsured rate in Connecticut by expanding access to Medicaid, with a focus on engaging those most affected by changes in Medicaid eligibility.
Cross Street Training and Academic Center, Middletown: $50,000
This funding will support advocacy work by the Ministerial Health Fellowship, an organization of Black faith leaders in Hartford, Middletown, and New Britain. The group will amplify the voices of those most affected by health disparities and COVID-19, and will advocate for expanded Medicaid eligibility to ensure more low-income residents have access to health care coverage.
Make the Road CT, Bridgeport: $50,000
This funding will support advocacy work by Make the Road CT, a grassroots organization that focuses on immigrant communities. Make the Road CT plans to advocate for expanded Medicaid eligibility and will conduct education and organizing within immigrant and Latino communities.
Grants in response to COVID-19
EdAdvance, Litchfield: $51,000
EdAdvance is working with the state Office of Early Childhood to support family child care providers in addressing health and safety needs through the COVID-19 pandemic. This funding will support EdAdvance to contract with the Connecticut Nurses Association to provide assistance to child care providers, including a phone line to answer questions about health, safety, and prevention measures, as well as webinars to review health and safety information.
The following two grants were awarded as part of the foundation's COVID-19 equitable emergency response fund, which is intended to support grassroots and faith-based organizations in distributing money to those in need. A list of previous COVID-19-related grants is available here.
Hartford Communities That Care, Hartford: $15,000
Hartford Knights Youth Organization, Hartford: $5,000
Discretionary grants
President's discretionary grants are awarded to organizations and institutions that respond to the foundation's overall mission or priority areas.
Center for Medicare Advocacy, Willimantic: $19,500
This funding supports strategic planning activities including work related to leadership succession, funding diversification, and long-term sustainability.
Universal Health Care Foundation of Connecticut, Meriden: $25,000
This grant supports work on coalition development, recruitment, and sustainability planning, as well as advocacy related to Medicaid expansion.
First Candle, New Canaan: $11,525
This funding will support First Candle in hosting community task forces and listening sessions in Norwalk, New Haven, and Hartford with families of color to inform the American Association of Pediatrics in updating safe sleep recommendations.
For more information, please contact Arielle Levin Becker at arielle@cthealth.org or 203-901-2363.
About the Connecticut Health Foundation
The Connecticut Health Foundation is the state's largest independent health philanthropy dedicated to improving health outcomes for people of color. Since its creation in 1999, the foundation has awarded more than $67 million to nonprofit organizations and public entities to expand health equity, reduce health disparities, expand health coverage, and improve the health of all Connecticut residents.