Success Stories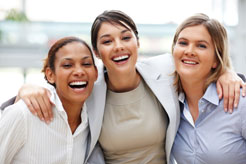 Since 1999, the Connecticut Health Foundation (CT Health) has been making successful change a reality through our strategic funding and efforts. Over our history, here are some examples of how our work has made a difference across Connecticut's health equity landscape.
Integrating Health Literacy in Adult Education
Health literacy is a set of skills needed by patients to make informed health care decisions. The National Assessment of Adult Literacy found that 66% of Hispanics and 58% of African Americans exhibit basic of below basic health literacy skills compared with 25% of Whites. Low health literacy is a contributing factor to health inequities, including challenges patients experience navigating health care systems and managing chronic diseases. In 2007, CT Health provided funding and intensive technical assistance to six adult education centers across the state to increase their capacity to teach health literacy skills in English as a Second Language, Adult Basic Education, and General Equivalency Diploma classes.
An independent evaluation found that this program measurably increased the health literacy skills of diverse adult learners, while facilitating the center's leadership commitment, teaching skills, and external health partnerships to sustain health literacy instruction. Evaluation results were published in Health Promotion Practice as one of two articles in the issue selected for continuing education contact hours for certified health education specialists.
Supporting Good Analysis to Inform Policy
Changing the system requires partnerships with both policy-makers and advocates. In 2010, CT Health provided funding and technical assistance to four organizations to conduct healthy policy research to yield data, analysis and recommendations to advance the policy agenda and inform state advocates working on related issues.
The end result were the following four publications:
This initiative was featured on the Health Affairs GrantWatch Blog, "A Connecticut Foundation Experiments with a Different Way of Funding Health Policy Research."
Advancing Evidence-Based Programs in Children's Mental Health
Children with serious and complex emotional, behavioral, and addictive disorders require multi-systemic therapy so that they can lead rich, fulfilling lives. In 2001, Connecticut providers wanted to provide this kind of treatment, but were not clear about the vision or the objectives.
That year, the Child Health and Development Institute (CHDI) approached CT Health for a planning grant to create a Connecticut Center for Effective Practice (CCEP). Multiple partners came together to form the Center, including CHDI, the Department of Children and Families, the University of Connecticut Health Center, and Yale Child Study Center. The goal of CCEP was to improve mental health care for children across Connecticut through the development, evaluation, training, and dissemination of evidence-based prevention and treatment services.
CCEP exists to this day, continuing to disseminate best practices in treating children with complex mental health issues.
Increasing Access to Oral Health
By the 1990s, it became clear that Connecticut was in a major oral health crisis. Since Medicaid reimbursements were so low, acceptance was not financially viable for many private providers. In an effort to help bring attention and action to the problem, CT Health began blazing the trail. The foundation funded the Connecticut Oral Health Initiative, an advocacy organization of health professionals and community leaders; commissioned a health study on improving oral health care across the state; and provided a general support grant that contributed to new legislation that gave private providers higher Medicaid reimbursement.
In 2013, CT Health published the brief, "Impact of Increased Dental Reimbursement Rates on HUSKY A-Insured Children: 2006-2011" which shared these encouraging findings:
Twice as many low-income children received dental treatment in 2011 compared with 2006.
Private provider participation more than doubled between 2006 and 2010.
An increase in services utilized was seen in nearly all 169 towns, but especially in the 10 cities with the highest populations of children enrolled in HUSKY A.