The Basic Health Program Could Help More People Access Health Care, But Recent Challenges Have Emerged
This article was written by Rachel Gershon, Robert Seifert, and Katharine London of the Center for Health Law and Economics, University of Massachusetts Medical School.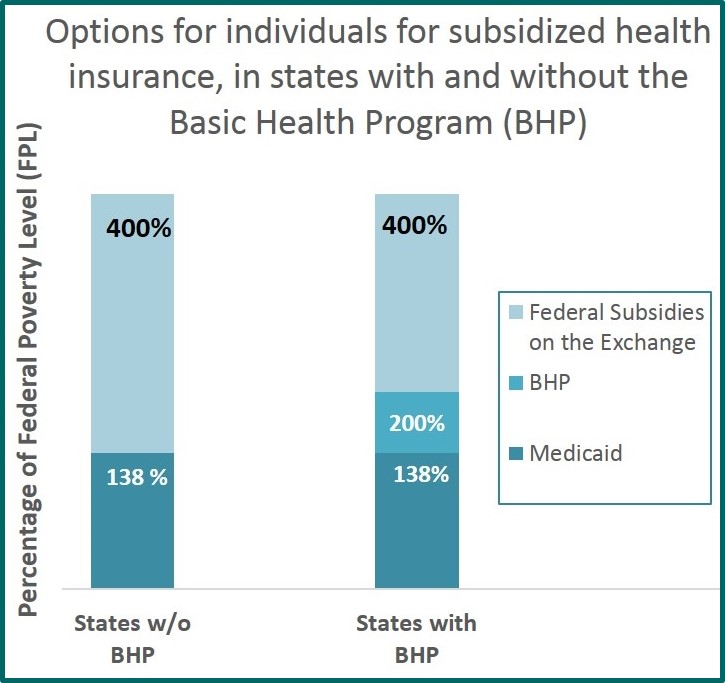 The Basic Health Program Opportunity
The Basic Health Program (BHP) offers states the opportunity to make health care more affordable to lower income people who do not qualify for Medicaid.[i]  States may use this Affordable Care Act (ACA) option starting in 2015. Unfortunately, recent developments could make it less likely that Connecticut will adopt the BHP in 2015.
More Americans than ever are expected to gain access to affordable health care through the ACA's expansion of Medicaid and its subsidies for private insurance. Improved health care access will likely improve the health and reduce the financial stress of many who are now uninsured.
However, for certain families, health care costs could still be out of reach, even with federal subsidies.[ii]  This is especially true for people with high medical needs and families who earn just enough money to disqualify for Medicaid. Starting in January 2015, states may use the BHP option as a tool to help these people.
Connecticut can consider the option if it is concerned that families in the lower income range of those purchasing coverage through Access Health CT (the state's health insurance marketplace, or exchange) will not easily be able to afford the premiums and associated costs.
How the Basic Health Program Works
The BHP is an insurance affordability program that covers individuals from 138% to 200% of the Federal Poverty Level.  That's about $21,000 to $31,000 per year for a family of two. It must cover a certain level of essential benefits. A state can construct its BHP so that it offers coverage at a lower cost to individuals than the subsidized coverage they could buy in the state marketplace (see sidebar) .
When a state offers a BHP, it will receive most of the federal funds that would have been used for subsidizing BHP-eligible individuals for their coverage through the marketplace. Connecticut could minimize BHP costs beyond the federal contribution using a number of policy levers. For a full discussion of these levers, and the potential benefits of a BHP to individuals and the state, see Evaluating the State Basic Health Program in Connecticut.
States have flexibility to design BHP premiums and subsidies ranging from $0 to Exchange Level. Based on modeling produced by Milliman for Connecticut, we developed two hypothetical scenarios, estimating BHP premiums and subsidies to be 50% of premiums and subsidies on Access Health CT:
Ben is a single young adult with high medical needs. He earns $22,000 per year and has $17,000 in annual. medical costs. Ben is eligible for subsidies on Access Health CT. With the subsidies, his yearly health care costs would reach almost $3,300, about 15% of his income. In a BHP, Ben's costs could drop to $1,600, about 7% of his income.
Kim and Craig are married and earn $21,000 per year. They both enroll in Medicaid as part of the ACA's coverage expansion, which covers their $8,000 yearly medical costs. Craig received a modest raise of about a thousand dollars, making them ineligible for Medicaid. The family's health costs would increase from zero to $1,300 annually, about 6% of their income. In a BHP, Kim and Craig's health costs could be closer to $600 yearly, or about 3% of their income.
What a Basic Health Program Could Mean for Connecticut
For people like Ben, Kim and Craig, lower health care costs could be a lifesaver. Because of the lower costs, an estimated 14,000 more Connecticut residents might buy insurance if the BHP were available.[iii]  More people with insurance could mean:
Better health;
More equitable health care; and
Less stress, depression and worry about financial concerns.
A BHP could also offer more affordable deductibles and copayments, which could make individuals feel more financially comfortable accessing health care that they need.  Additionally, the population in the BHP income band, over the course of a year, tends to have a high degree of income fluctuation.  Some argue that the BHP would promote continuity of coverage and reduce "churn" between Medicaid and the marketplace with the risk of people falling through the cracks and becoming uninsured.[iv]
Recent Challenges for Basic Health Plan Proponents
The Connecticut Governor's Office of Health Reform and Innovation convened a workgroup in 2012 to consider the BHP option. The workgroup finally recommended that it reconvene after federal rules had been issued and, in the meantime, that the state monitor the experiences of lower income people purchasing coverage through Access Health CT to determine if a less costly option was in fact necessary.
The federal government delayed the earliest possible start date for a BHP to January 2015, a year later than other new coverage under the ACA takes effect. That means that instead of starting in 2014 when the Medicaid expansion and Exchanges roll out, the Basic Health Program will start a year later in 2015.  Earlier this fall, the federal government released the Basic Health Program Proposed Rule, which will be finalized in 2014.[v]  This rule did not include the details of federal payments to states.
One attractive option for Connecticut would be to design a BHP as an extension of Medicaid, using the same provider networks and administration. This way, families with children still eligible for Medicaid could use the same network of providers and people moving from Medicaid to the BHP due to income changes could transition with minimal disruption.  Unfortunately, the proposed federal rule requires that states contract with health plans or "network[s] of health care providers" for BHP coverage, which differs from Connecticut's current Medicaid program structure.
Connecticut groups, including the Connecticut Health Foundation, that want the BHP to be a viable option for the state to consider submitted comments urging the federal government to give states more flexibility and to allow for seamless transitions for individuals moving from one program to another.  Other concerns in the comments include allowing for a continuous eligibility process, ensuring adequate networks of providers, and adequate consumer protections for people with disabilities.
What to Look for Next
The federal government just issued a draft Payment Notice online, with a plan to publish in the Federal Register next week. They are seeking comment on the details of federal payments to states. Once finalized, the Payment Rule should help clarify the financial feasibility of a BHP in Connecticut.
The federal government will review comments on both the proposed BHP rule and the payment notice, and plans to release final versions in the spring of 2014.  The first open enrollment period for Access Health CT will end around the same time, providing information on how many lower income families have enrolled. Per PA 13-74, Access Health CT is to provide quarterly BHP relevant reports to the Public Health, Human Services, and Insurance Committees of the general assembly starting March 31, 2014.  Connecticut will then face an important decision regarding whether to move ahead with the development of a BHP.