Director of Grantmaking Garrick Wong is leaving the foundation to return to California, his home state, where he will continue to work toward health equity. We're sad to see him go but wish him and his family well in their next chapter.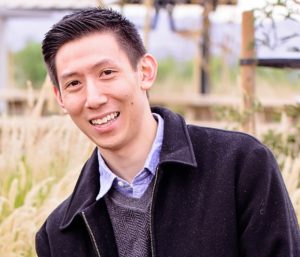 It is hard to believe that after five years, today is my last day at the Connecticut Health Foundation. I will be returning to California to be closer to family and to join the team of an equally dynamic foundation with a similar mission of advancing health, wellness, and equity through a systems change approach.
These past few years have been some of the most rewarding and formative years in my professional and personal life. I feel privileged, inspired, and humbled to have worked with so many talented and committed colleagues, board members, grantees, leadership fellows, and partners. I am proud of the work we accomplished together, and I look forward to hearing about all you will accomplish in the future toward our shared vision of achieving health equity and creating a more just and fair world.
The road to health equity in Connecticut, and across our nation, is long and winding. The journey requires vision, strategy, collaboration, a commitment to action, and perseverance. And although my time in Connecticut is ending, I am heartened by the fact that these are the exact qualities that I would use to describe the incredible organizations and individuals here in the state that are working tirelessly to achieve this mission.
There are many things that I will miss about this place. I will forever hold memories of summer afternoons along the Connecticut shoreline collecting shells with my 6-year-old daughter, the unparalleled beauty of the fall foliage, the first snowfall of the year, and the anticipation of spring after a long winter. However, what I will miss most are the incredible people that I have met during my time here and the friendships we have developed.
Lastly, it would be remiss of me not to acknowledge my gratitude to Pat and Tiffany for their expert leadership and mentorship. Their steadfast commitment to this work and to support for those who share in this vision is inspiring and an example to us all.
It has been an absolute privilege to be part of the journey.
Thank you.