A message from President & CEO Tiffany Donelson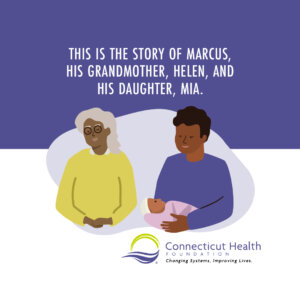 The events of the past year and a half have caused more people to focus on the impact of racial disparities in our country. For those of us who work on issues rooted in racial inequity, this has been a welcome and appreciated development. But it comes with a challenge: If we hope to create a more equitable state, we must assure that this growing awareness of racial inequity continues – and that it leads to changes in policies and practices that can make a meaningful difference.
To that end, I'm writing to share an infographic that the Connecticut Health Foundation developed, which tells just one hypothetical story of how racist policies rooted in the past influence the opportunities available to Black families today. Put simply, while our country has made progress in outlawing policies that discriminate, the legacy of these policies and ongoing discrimination continue to leave people of color with unfair burdens, producing inequitable opportunities. If we want to assure that everyone has a fair and just opportunity to succeed and be as healthy as possible, we must find solutions that focus on equity – that is, recognizing and investing time, energy, and dollars to undo additional barriers that people of color face.
You can find the infographic, with detailed references on where we got the information, here.
For many of you, the information in this infographic won't be new. However, we hope it will be helpful in contributing to conversations about equity or even fostering new ones.
You might notice that this infographic takes a broader lens than the foundation's typical work, which is centered on health and promoting health equity for people of color. That's because the health inequities we seek to eliminate are shaped by many things outside the health care system itself.
On our website you will find a list of other resources on equity. I invite you to read, share, send us your feedback, and continue working with us to advance racial equity.