This week we're celebrating the Connecticut Health Foundation's history in funding oral health and the dramatic turnaround Connecticut has made in access to oral health care.
As part of this look back, we are releasing the report "Expanding Access, Improving Smiles: A History of the Connecticut Health Foundation's Work in Oral Health," by Zehra Abedi. The report explores the strategies used to improve oral health care in Connecticut, including grantmaking, policy advocacy, alliance-building, and leadership development.
Our celebration comes as the foundation prepares to complete its final year of funding oral health as a standalone category. This is the result of a 2012 decision by the foundation's board to dig deep in one priority area – health equity – rather than stretching its resources to cover a wider range of priorities. The choice reflects confidence in the work others are doing in oral health, as well as the fact that oral health is a health equity issue. As a result, the foundation will still support oral health work in the context of health equity efforts.
So what's changed since 1999? Here's a look:
Not long ago, Connecticut was in a major oral health crisis. In 2005, fewer than one in three children covered by Medicaid saw a dentist – one of the lowest rates in the country.
Less than a decade later, the picture was far different:
Connecticut was first in the nation in the percentage of children with Medicaid who visited a dentist in 2013, according to a national report.
The percentage of poor children ages 3 to 5 with untreated dental decay fell by 50 percent between 2007 and 2011, according to a state Department of Public Health study.
Children of all races and ethnicities with Medicaid were far more likely to receive preventive dental care in 2013, compared to 2008.
What led to that remarkable turnaround?
It was a combination of advocacy, policy, funding, and people working together.
To raise awareness and find solutions to the problem of children's dental health, the Connecticut Health Foundation:
Brought together oral health providers, children's organizations, and others to work collaboratively on a blueprint for change
Funded the Connecticut Oral Health Initiative, an advocacy organization of health professionals and community leaders
Commissioned a study on improving oral health care across the state that offered recommendations for action
Awarded a grant to the efforts that ultimately led to higher Medicaid reimbursement rates for dental care in Connecticut
That combination of advocacy, funding, and collaboration also underpinned other changes that helped to fix the problem.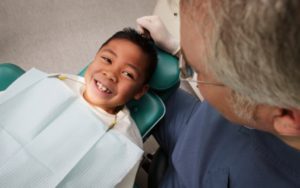 Because of very low payment rates, few dentists were treating children covered by Medicaid – known as HUSKY in Connecticut. A class-action lawsuit over the rates was settled in 2008, which led to increased payment rates for dentists who treated children in HUSKY.
Money wasn't the only factor, though. Other changes that were instrumental in the major gains include:
Hard work by the state Department of Social Services and the Connecticut State Dental Association to encourage more dentists to treat patients covered by HUSKY
Streamlining in the administrative side of the HUSKY dental program, which made it less of a hassle for dentists to participate
Dentists who began accepting Medicaid patients helped convince their colleagues to do the same
While Connecticut has made great strides, more recent data shows dental care rates have dropped among children covered by HUSKY. It's important to stay vigilant to protect the gains many worked hard to achieve – and to pursue solutions through a variety of approaches that complement one another.