This blog was originally posted in 2017. We updated it in November 2020 with current links and information for the current open enrollment period.
If you're looking for health insurance, chances are someone has told you to "shop around." If you're not sure what that means, we have some tips. There's no single plan that's best for everyone, so it pays to do your homework to find one that meets your needs.
First, a couple key details:
This post focuses on Access Health CT, the marketplace in Connecticut for people who buy health insurance on their own (rather than getting it through a job).
Right now is the open enrollment period, meaning this is the time to sign up for insurance that will take effect in 2021. The open enrollment period ends on Dec. 15; after that, you won't be able to sign up for coverage unless you experience a major life change, such as losing your job-based coverage or getting divorced.
As you read through this, keep in mind that there's free assistance available to help you pick a plan:
Find one-on-one assistance in your community:
For help COMPLETING your application, select find "An Enrollment Specialist (or Certified Applied Counselor)"
For help CHOOSING a health care plan, select find "A Certified Broker"
Use Access Health CT's choose a plan tool that helps identify the plans that fit your specific needs, based on your family size, income, doctors, prescriptions, and anticipated need for health care.
Here are three questions to answer when you're comparing plans:
Is your doctor covered?
If you are shopping on Access Health's website, you can see which health care providers are covered by each plan. Once you have entered your information and have a list of plan options, click on the link that says "Click for plan details" and then click on "search providers".
Alternatively, ask your doctor's office which plans they accept (this is probably the most reliable way of knowing if your provider is covered by the plans you are considering).
When checking, be sure you know the exact name of the plan (or plans) you're considering. For example, you would say: "ConnectiCare Passage Bronze Alternative PCP POS" or "Anthem Bronze PPO Standard Pathway." Some health care providers participate in only certain plans offered by an insurance company.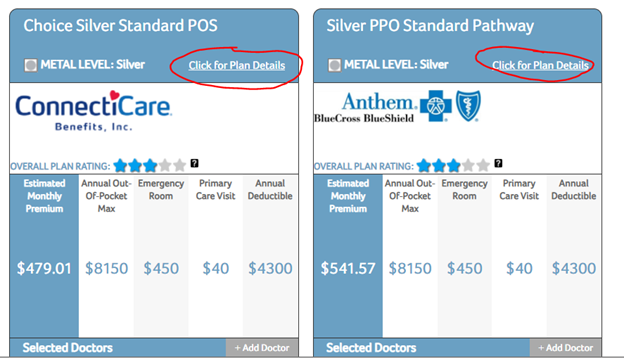 How are your medications covered?
Another difference between health plans is how they cover prescription drugs. Health plans typically categorize medications in different tiers and require customers to pay more for drugs in higher tiers.
If you take medications, check which tier they're in for each plan you're considering.
ConnectiCare's list of prescription drug tiers is here.
Anthem Blue Cross and Blue Shield's list is here.
What will it cost?
There are two ways you pay for health care: your monthly premium and the fees you pay when you get care. To know what your plan will cost, you need to understand both types.
The monthly cost: This is called the premium. You pay it every month, whether you use your insurance plan or not.
Out-of-pocket costs: These are what you pay when you get care. The main types of out-of-pocket costs are the copays, deductibles and co-insurance (more details below). Health plans have different ways of handling these, so it's important to know the details. Important note: Regardless of what plan you choose, certain preventive services, including annual check-ups, are covered with no out-of-pocket cost to you. This means no office copayments and no bills.
Here's a look at the different types of out-of-pocket costs you might have under different health plans:
The deductible: A deductible is how much you must pay for your medical care before your insurance plan begins chipping in. Your premium does not count toward your deductible.
Example: Andre has a $6,000 deductible. He goes to the hospital and his care costs $8,000. He would have to pay $6,000, and then the plan would chip in for the rest of the bill.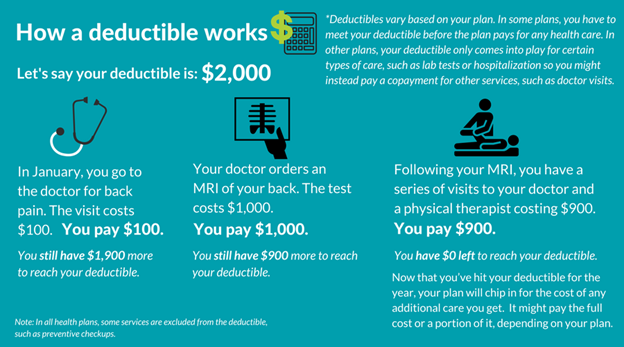 When the deductible applies: One important thing to understand about each plan is when the deductible applies.
Under some plans, you have to pay the full price for all care you get until you hit the deductible (with the exception of the preventive services that are always covered at no charge to you).
Example: Andre goes to the doctor because he has a sore throat. The visit costs $100. Because he has a $6,000 deductible and hasn't spent that much on medical care yet this year, and because his doctor visit falls under the deductible, he will have to pay the full cost of the visit. He gets a bill for $100.
Under other plans, the deductible only comes into play for certain types of care, such as blood tests or hospital admissions. For other services, such as office visits to a primary care provider, you'd pay a set copayment – such as $40.
Example: Andre goes to the doctor with his sore throat. The visit costs $100. Because his plan requires him to pay a copayment, he pays $40. His health plan pays the other $60.
Copayments vs. coinsurance: These are two other ways you can be charged for health care if your care doesn't fall under a deductible.
If you have coinsurance, you pay a certain percentage of the cost of care. For example, if your plan requires you to pay 10 percent coinsurance and you get a $400 lab test, you would pay $40.
Copayments are fixed amounts that you pay toward the cost of care. If your plan requires you to pay a $30 copayment for an office visit, you would pay $30 no matter what the price of the visit is.
The out-of-pocket maximum: All health plans have an "out-of-pocket maximum." It is the most you will have to pay out-of-pocket for care for that year – as long as all the care you get is within the plan's provider network and for services covered by the plan.
Anything you pay toward your deductible, copayments, or coinsurance counts toward this limit. What doesn't? The money you spend on your premiums.
How it all adds up: Some plans have lower premiums but higher deductibles. That means that you could end up with very high bills if you need a lot of medical care. On the flip side, some plans with higher premiums leave you with lower out-of-pocket costs when you get care.
Your premiums are what you'll have to pay no matter what. Your out-of-pocket costs, up to your out-of-pocket maximum, will vary based on how much health care you use.
Figuring out the right plan for you requires figuring out the right balance of premiums and out-of-pocket costs. Here is a helpful educational video by Consumer Reports that explains the most important health insurance terminology.
Where to find it: If you're shopping through Access Health CT, the state's health insurance marketplace, you can find out more about how each plan works – including when you'd have a deductible, coinsurance, or copayment – if you click on the link that says "Click Here For Detailed Plan Documents (PDF)" that accompanies each plan option.
Still confused? Get FREE help and talk to a broker. Insurance agents and brokers are experts who can help you pick the right plan for you. Their fees are included in the premiums you pay to your insurance company, whether you use a broker or not – meaning that you won't have to pay anything extra to get their help.