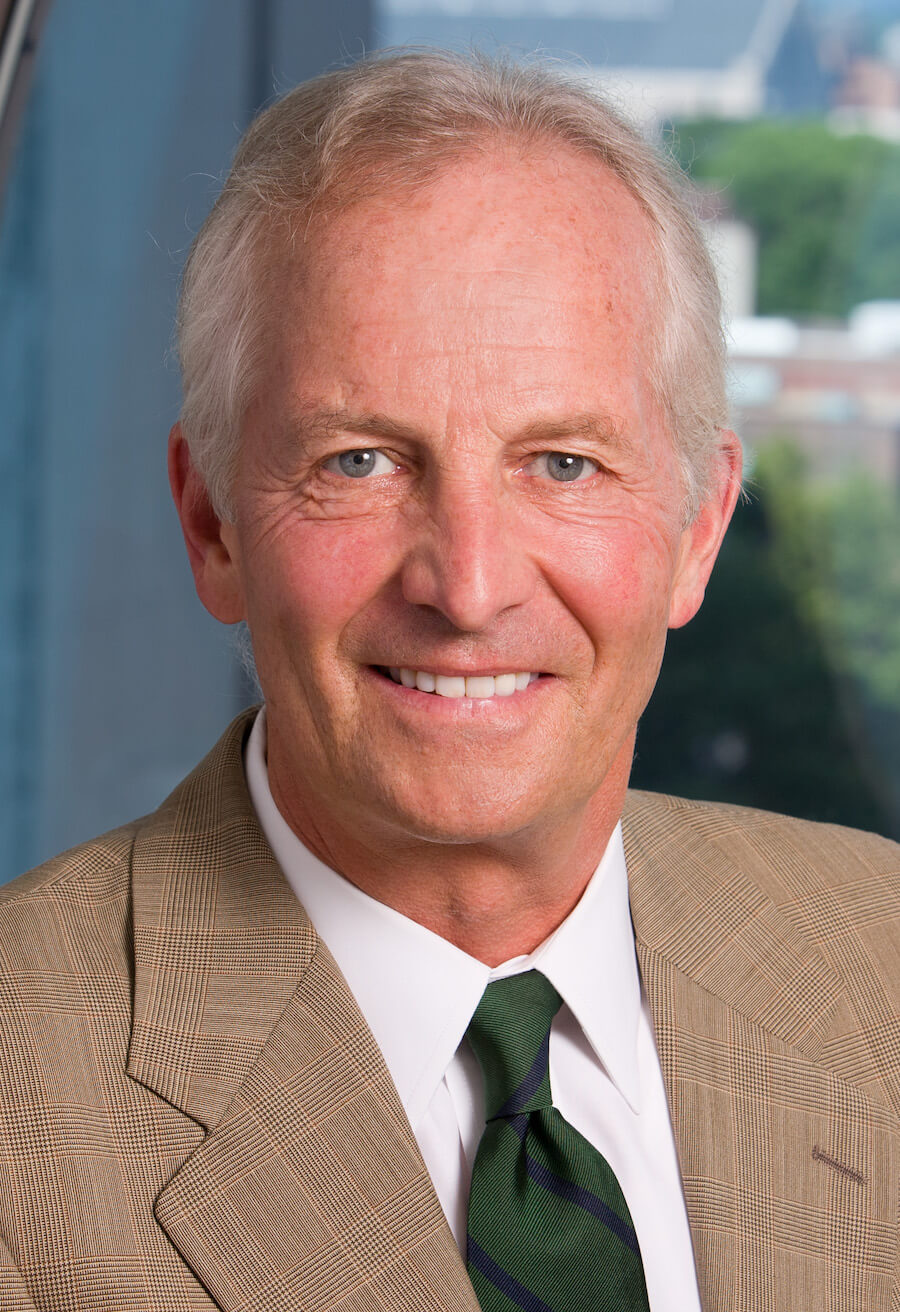 HARTFORD (June 20, 2018) – The Connecticut Health Foundation elected David I. Newton as chair of its board of directors. He succeeds Gregory B. Butler in chairing the board of Connecticut's largest independent health philanthropy.
Newton, of New Haven, is president and founder of Elm Advisors, LLC, which specializes in real estate and facilities services for not-for-profit institutions. He also serves as trustee and a member of several boards, including Lesley University, New Alliance Foundation, Start Bank, Elm Shakespeare Company, Project Access of New Haven, and St. Martin de Porres Academy.
Newton previously served as associate vice president and director of University Properties at Yale University and as president of the Facilities Resource Management Co. He is a graduate of Williams College and Columbia University Graduate School of Business.
"I look forward to working with the board and staff to continue the foundation's work to achieve health equity," Newton said. "In this rapidly changing health care environment, we need to remain nimble and recognize the complexity of the problems we face while finding strategies to eliminate health disparities and change the conditions that cause them."
In addition, the Connecticut Health Foundation board appointed three new members and awarded $266,000 in grants this quarter.
The three new members of the Connecticut Health Foundation board are:
Yvette Meléndez has a wide range of experience in health care, higher education, and philanthropy. She served as vice president for government and community alliances at Hartford HealthCare, chief of staff and chief administrative officer for the Connecticut State University System, and interim president of the Hartford Foundation for Public Giving. Meléndez also served as deputy commissioner and acting commissioner of the state Department of Public Health and as board chair for the Hartford Foundation for Public Giving. She currently serves as vice chair of the Board of Regents for Higher Education and is a member of the board of directors of Hartford Hospital, Connecticut Public Broadcasting Network, and the Wadsworth Atheneum. She is a graduate of Brooklyn College of the City University of New York and Rensselaer Polytechnic Institute, and completed studies in industrial and labor relations at Cornell University.
Barbara L. Pearce is President & CEO of H. Pearce Real Estate Company in North Haven, a full-service real estate firm with eight offices and more than 100 associates. In addition, Pearce has served as president of Grameen America's health care subsidiary, worked as a consultant to Yale University, and practiced law at Skadden, Arps, Slate, Meagher & Flom. She has been on many for-profit and not-for-profit boards, and has, among others, chaired The Community Foundation for Greater New Haven, Artspace, the Hospital of Saint Raphael, the Connecticut Business & Industry Association, WOWPAC, Long Wharf Theatre, United Way of Greater New Haven, and the Regional Leadership Council. She is a graduate of Radcliffe College/Harvard University, the Harvard Graduate School of Business, and Harvard Law School.
Alvin W. Thompson is a United States District Judge for the District of Connecticut, an appointment he has held since 1994. Thompson previously worked as an attorney at Robinson & Cole, where he served as an associate, partner, and managing partner. He has chaired and is active in the Section of Business Law of the American Bar Association. He has also served on the scholarship committee for the American Bar Association's Legal Opportunity Scholarship Fund. Thompson serves on the Hartford Advisory Board of the Salvation Army and the Trustees of the Warburton Chapel, and has served on the Policy Advisory Committee for the Patrick and Catherine Weldon Donaghue Medical Research Foundation. Thompson is a graduate of Princeton University and Yale Law School.
GRANTS AWARDED
The Connecticut Health Foundation awarded $266,000 in grants this quarter. 
Connecticut Legal Services, Middletown: $75,000
This grant will support Connecticut Legal Services' work to ensure that people of color have equitable access to health care. The legal assistance organization will focus on addressing barriers that can threaten the ability of low-income Connecticut residents to get health care, with an emphasis on reducing the telephone wait time for calls related to Medicaid and improving responsiveness and availability of nonemergency medical transportation for people covered by Medicaid.
Christian Community Action, New Haven: $25,000
Christian Community Action, an ecumenical social service organization, is working to increase the number of people of color in low-income communities who play leadership roles in health reform efforts. This grant will support the organization's Helping Everyone Achieve Lifelong Trusted Healthcare (HEALTH) advocacy group, which helps community members build their leadership skills and advocate on health issues so those most affected by health disparities have a voice in efforts to improve the health care system.
Congregations Organized for a New Connecticut, New Haven: $25,000
Congregations Organized for a New Connecticut, or CONECT, is a community organization made up of 25 congregations and institutions from East Haven to Norwalk, representing Christians, Muslims, Jews, and Sikhs. This grant will support CONECT's Health Team as it works to protect gains the state has made in expanding health care coverage and to achieve greater parity in mental health coverage and care.
Cross Street Training and Academic Center, Middletown: $25,000
This grant will support the work of the Ministerial Health Fellowship, a faith-based health care advocacy network that works with pastors and church leaders from New Britain, Hartford, and Middletown. Because many people turn to their religious leaders for help dealing with the stresses of health issues, faith leaders have a frontline view of the health care system. Working with Cross Street Training and Academic Center, as well as the North Central Regional Mental Health Board and other organizations, the Ministerial Health Fellowship has been educating pastors and church leaders about health care issues and advocacy. In the coming year, the group will focus on addressing systemic barriers to health care access in black communities.
Read more about the Ministerial Health Fellowship's previous work.
Discretionary grants
President's discretionary grants are awarded to organizations and institutions that respond to the foundation's overall mission or priority areas.
Columbus House, New Haven: $25,000
This grant will support Columbus House's medical respite program, which provides a safe place for individuals who are homeless to recuperate after being released from the hospital. Individuals in the program receive a room at Columbus House, meals, intensive case management to help overcome issues that contributed to their homelessness, and assistance securing affordable housing. In addition, clients are connected with primary care providers and patient navigation services to help them access medical care. The respite program has significantly reduced the likelihood of participants being readmitted to the hospital soon after being discharged and has reduced the length of time they spend in the emergency department.
Connecticut Forum, Hartford: $19,000
This funding will support the CT YOUTH FORUM and the R.I.S.E. Above campaign, which works to empower students, promote nonviolence, and build a positive school culture with strong social connections that can help students avoid risky activities. The campaign is currently in a two-year pilot in three schools: Hartford Public High School Academy of Nursing and Health Sciences, Windsor High School, and Connecticut River Academy in East Hartford. This grant will fund the second year of the pilot, as well as an evaluation of the project.
Leadership Greater Hartford, Hartford: $22,000
This grant will fund listening sessions in the five Connecticut cities with the highest incidence of HIV (Bridgeport, Hartford, New Haven, Waterbury, and Stamford), with specific sessions intended to gather feedback from groups most heavily affected by HIV: gay men of color, black women, and transgender women. The information gathered through the listening sessions will help to potentially retool strategies for addressing HIV by focusing on groups that are most at risk and face the heaviest burden from the disease.
Medicaid Strategy Group, Hartford: $25,000
This grant will support the work of the Medicaid Strategy Group, a coalition of health policy advocates, as it works to protect and strengthen health care coverage for low-income Connecticut residents.
Naugatuck Valley Project, Waterbury: $25,000
This grant will help the Naugatuck Valley Project develop a diverse leadership team, bring together Naugatuck Valley residents interested in health care issues, and work with the parent company of Waterbury Hospital on its role in the community.
For more information, please contact Arielle Levin Becker at arielle@cthealth.org or 860-724-1580 x 16.