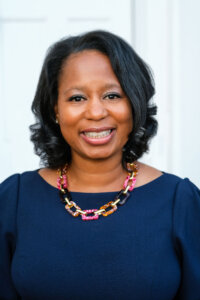 This post is by President and CEO Tiffany Donelson. 
This week we published a report that details the lessons we hope state leaders and others will take from the experiences of the pandemic. At the same time, we at the Connecticut Health Foundation have been reflecting on what can learn about how we do our work.
Our organization is focused on eliminating racial and ethnic health disparities. From the early days of the pandemic, we feared that COVID-19 would disproportionately affect people of color, and unfortunately, that proved to be the case. These inequities were the result of both the novel coronavirus and disparities that predated the pandemic, leaving people of color far more vulnerable to the health threat and economic disruption, the report noted.
The experiences of the past two years led us to reflect on our approach. What can we do to make sure that something this devastating does not happen again? What gaps exist in how we do are work, and how can we be more effective? How can we better serve communities of color?
We are still reflecting and considering changes we can make, but as we share the lessons we hope others will take from the pandemic, I thought it was important to also share some of what we've learned so far about what we need to do better.
We need to be more community-led
Most of our work has been community-informed, but it hasn't necessarily been led by the communities most affected by health inequities. Without question, we need to do a better job engaging with community members overall.
In the two years since the pandemic began, we have started to take steps in this direction. We created a grant program for grassroots organizations that are led by people of color and that prioritize racial equity. We created a health equity collaborative to bring together people working at the community level who can take on issues and provide feedback to state officials and health system leaders.
This is a journey, not something we can fix with one initiative or statement. We are now taking a deeper look at our approach and practices to assure we can truly hear from and meet the needs of communities.
We can streamline our processes
When the pandemic began, it was clear we needed to get money to those who needed it as quickly as possible. To do so, we created an emergency fund and developed a short application for organizations to complete.
This was a major change from our usual grantmaking process, which includes a lengthy application and multiple rounds of review. The need to respond as quickly as possible necessitated a change, but also led us to consider how much of a barrier our usual grant requirements pose to potential grantees, and what parts of the process we could streamline or eliminate.
We gained more insight into this when we spoke to leaders of grassroots organizations as part of a "pitch day" for the Patricia Baker Awards for Health Equity Policy and Advocacy, a new grant program. We heard clearly that people leading organizations that do great work in their communities are often overstretched and might not have the time to fill out lengthy applications.
Our goal in funding organizations is to support their work, not to reward their grant-writing skills – so that means we need to find a better way to gather the information we need in the least burdensome way possible for potential grantees.
We need to maintain a sense of urgency to address the underlying crisis
The pandemic was a crisis that demanded a fast and sustained response. But it also served as a reminder that even in the absence of a pandemic, many people of color face health risks that should be treated with the urgency of a crisis.
For example, consider these statistics:
Babies born to Black women in Connecticut are nearly 2.5 times more likely to die before turning one than babies born to white women.
Black Connecticut residents are nearly four times more likely than white residents to have a lower-extremity amputated because of diabetes – a complication that experts say should be preventable. The rate for Hispanic residents is nearly three times higher than among white residents.
Neighborhood-level life-expectancy data reveals gaps of more than 20 years. In Northeast Hartford, where 98% of residents are Black or Hispanic, life expectancy is just 68.9 years. In one part of Westport, where 91% of residents are white, life expectancy is more than 20 years longer: 89.1 years. That's almost a full extra generation of life.
As we move beyond the acute phase of the pandemic, we must maintain our sense of urgency to change the systems that create such deeply inequitable outcomes.
I am heartened by the many new partners we have gained in the past two years, and by the commitment of many across Connecticut to work to address the inequities we saw magnified during the pandemic. We have much work to do.