Help spread the word and get people covered!
Having health insurance is key to being able to get health care. Although Connecticut has a low uninsured rate, significant gaps persist, especially for residents of color. Increasing awareness about the options that exist for health coverage in Connecticut can help more people get covered.
Access Health CT, the state's health insurance marketplace, helps people learn about their options for health insurance. This year, the open enrollment window to sign up for health care coverage is November 1st through January 15th. Financial help and some plans are only available through Access Health CT.
Thanks to changes in public policy, there are several options for financial assistance. People who previously decided to forgo coverage because of cost concerns may benefit from taking a second look.
In addition, some residents may be eligible for the Covered Connecticut program, which offers no-cost coverage, including medical and dental benefits and non-emergency medical transportation.
In this toolkit, you'll find:
The changes that took place in recent years are complicated, and many people haven't heard of terms like "the Inflation Reduction Act" or "Covered Connecticut." We've tried to use clear messages about the coverage options that exist and to explain Covered Connecticut. We hope these messages will be useful to share and help get people covered.
For questions or comments about this year's toolkit, please contact Stephanie Lomangino, communications officer, at: stephaniel@cthealth.org.
Key messages
The open enrollment period to sign up for health insurance through Access Health CT is from November 1, 2022, to January 15, 2023.
Free help is available by phone, live online chat, and in-person.
Access Health CT offers many options for health insurance, including plans that offer no-cost coverage as well as financial assistance for those who qualify.
Covered Connecticut is a no-cost coverage option available to those who qualify. This coverage includes medical and dental insurance, and rides to medical visits.
Enrollment for both HUSKY and Covered Connecticut is open all year.
Financial help is widely available. People who previously decided to forgo coverage due to cost might be surprised by the options available now.
Quick links
1-pagers
CLICK ON THE IMAGE TO DOWNLOAD
These are 1-pagers about open enrollment and a new program called Covered Connecticut.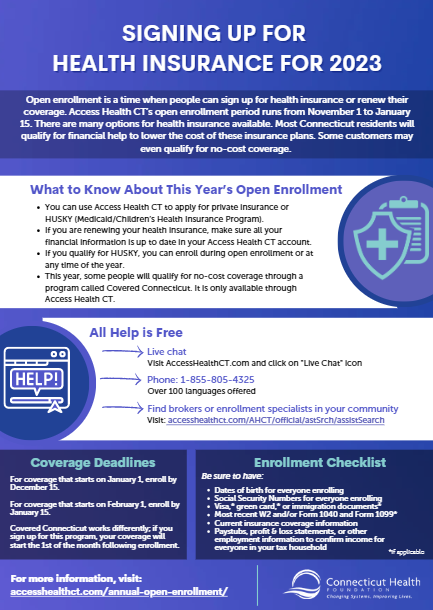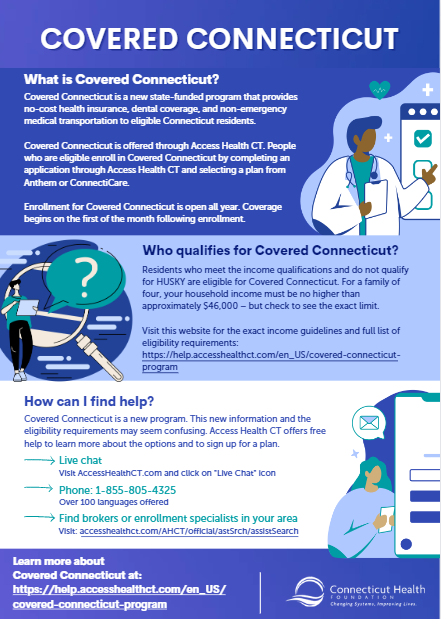 Shareable graphics
CLICK ON THE IMAGE TO DOWNLOAD
>>CLICK TO DOWNLOAD TWITTER GRAPHICS
>>CLICK TO DOWNLOAD FACEBOOK GRAPHICS
Sample social media posts