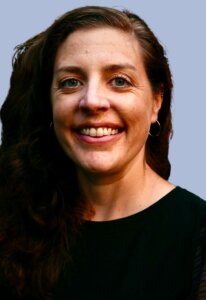 This post is by Ellen Carter, who recently joined the foundation as vice president of program. She explains how her experiences in outreach and at a community foundation shaped her interest in working toward health equity by focusing on the systems that influence everyone.
I started my nonprofit career as a Supplemental Nutrition Assistance Program (SNAP) Outreach Advocate. This fancy title just meant that I spent my days visiting nonprofits, training staff on SNAP eligibility guidelines, and working with people to gain access to the program.
SNAP, formerly known as food stamps, is a complex benefit, and to get a stranger to commit to having an intimate conversation about their finances, their family, and hunger, I usually started by just having a conversation about whatever they wanted to talk about.
One day close to Thanksgiving, I was at the Salvation Army in Bridgeport, and the social worker, Mary, introduced me to Alfonso, a food pantry patron who was eager to chat.
He shared that at age 89, he had immigrated from the Dominican Republic to Bridgeport to live with his sister. She supported most of what he needed but he was having trouble with food and access to other services. Alfonso also introduced me to his friend, Lev. Lev had immigrated decades earlier from Eastern Europe. Now retired and secure, Lev devoted his time to helping recent immigrants navigate the complexities of American social and medical services.
As I listened and silently checked off the boxes for SNAP eligibility, I noticed that Alfonso had a pretty severe tremor throughout his body. Lev shared that Alfonso had recently been diagnosed with late onset of Huntington's disease. The movements were chorea, a symptom of the neurodegenerative disorder.
Lev had taken Alfonso to the local Americares clinic, where they had diagnosed and were treating the disease. Americares is an international aid organization that operates free health clinics in Connecticut, and I wondered why Alfonso got his care there. Lev shared that Americares was often his first place to bring individuals he supported because it served individuals regardless of immigration status and without requiring complex financial documentation. The clinic staff was so supportive, they provided the prescription drug cocktail that Alfonso needed to take daily to combat the chorea, depression, and other developing symptoms of his disease.
I left that day feeling as though I had made two friends. About a month and later, I got a call from Mary. Alfonso was missing. His sister had moved back to the Dominican Republic and Alfonso was squatting in her home, without an income. He was likely not taking his medication and might be depressed or fighting dementia.
Mary, Lev, and I put the call out to the social service network in Bridgeport. Had anyone seen an 89-year-old charismatic man with a movement disorder?
About two weeks later Alfonso surfaced at the local homeless outreach center. The complex medical, nutrition, and housing assistance guidelines and procedures made it difficult for him to access services. Mary, Lev and I decided to trigger a process with Protective Services at the State Department on Aging to try to get him assistance. Meanwhile, Lev brought Alfonso back to Americares to make sure he was ok.
The last time I spoke to Alfonso he was loving his apartment in an older adult housing complex. He was managing the disease progression. Best of all, he was supported and secure.
Years later, I still think back to the dedicated and skilled team of social workers, volunteers, and outreach staff it took to support Alfonso. He was in one of the richest states in our country and was relying on free medical care from a clinic that specializes in international medical assistance. He got connected to all of us not through a senior or call center, but through a volunteer.
Since my outreach days, I've met many people like Mary and Lev. Our social service safety net has skilled, caring individuals who are dedicated to making sure that children, families, older adults, and immigrants have access to basic things like housing, food, and health care.
While in community philanthropy, I realized that despite the best efforts of skilled people, the system remains just as challenging to access and navigate. Unfortunately, the best intentions of those on the ground only mitigate the symptoms of fragmented, inaccessible, and often unaffordable health care. Solutions these complex problems must be crafted by seeking the expertise of those closest to the problem.
I joined CT Health because of its focus on systems change and its history of taking chances to fund innovative approaches to reduce health disparities. Philanthropy is uniquely situated to either shore up systems that are ineffectual or to seek comprehensive solutions that challenge and change them.
As I start my journey with the talented staff and partners at CT Health, I'm energized to collaborate with communities and policy makers to work toward a Connecticut where everyone can achieve optimal health, no matter their race, ethnicity, or connection to resources.