Having an asthma treatment plan for your child goes only so far if your apartment building is infested with mold. A healthful diet is essential to diabetes management, but eating right is hard if the only food readily available in your neighborhood comes from convenience stores or gas stations. Even if you have a relationship with a trusted primary care clinician, what happens when you miss appointments because of unreliable transportation?
Adequate and nutritious food, reliable transportation, safe living conditions, and secure employment are among the "social determinants of health" — community, behavioral, and environmental factors outside the medical system that have significant influence on a person's health and well-being. Unmet social needs can increase the risk of developing chronic conditions, reduce an individual's ability to manage these conditions, and increase health care costs, according to the Connecticut Hospital Association (CHA).
"Hospitals have helped patients with social issues for years," said Elizabeth Beaudin, senior director for population health at CHA. For instance, she noted, hospital staff might become aware a patient is dealing with food insecurity and connect an older patient with Meals on Wheels as part of discharge planning. Or staff will refer homeless individuals to agencies that assist with shelter placements. Several hospitals have community care teams that work with high-risk patients. If they find out about social needs, hospital staff often try to help.
"But overall," Beaudin said, "there has not been a practice of planned screening up front."
The hospital association is working to begin that practice. In a program started with funding from the Connecticut Health Foundation, CHA has been developing ways to identify patients' social needs early on, and has been collaborating with community organizations to address a range of non-medical concerns.
Tiffany Donelson, vice president of program for the Connecticut Health Foundation, noted that much of what affects health happens outside of hospitals and doctors' offices. This fact is especially true for people of color, who are often challenged by issues affecting health that can't be solved by medical care alone. Studies show that addressing the social needs of underserved populations improves health outcomes, narrowing health disparities.
"Our goal," Donelson said, "is to see more health systems grasp the critical importance of addressing social determinants of health for their patients in order to improve health outcomes, especially for underserved populations."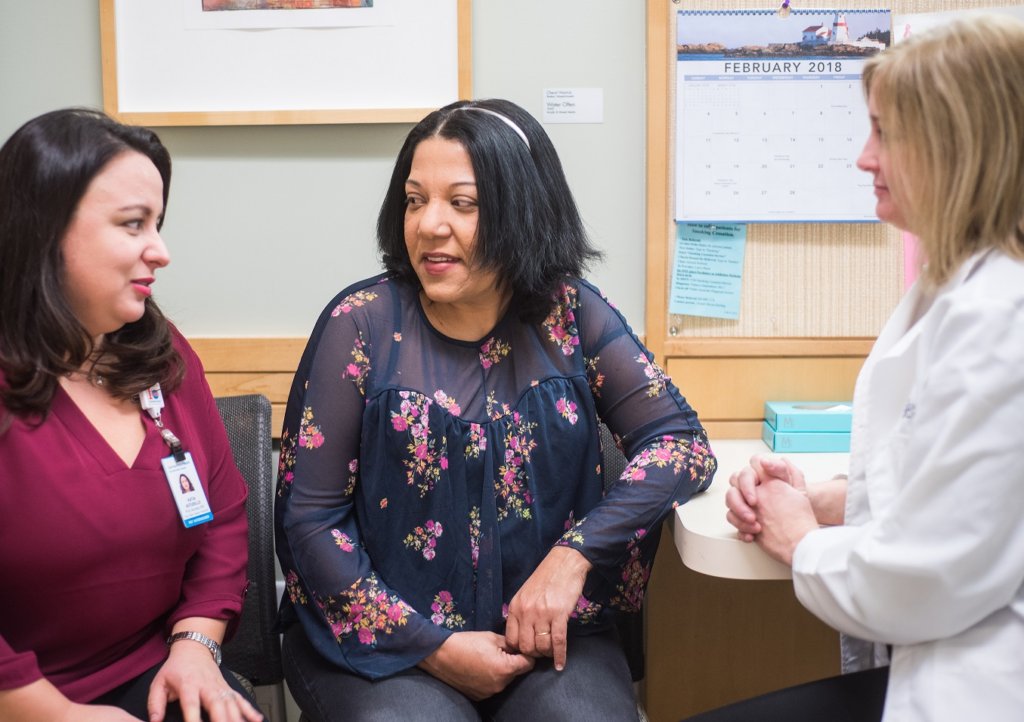 Asking key questions
Four hospitals piloted the project, called the Connecticut Social Health Initiative: Bristol Hospital; Day Kimball Hospital in Putnam; MidState Medical Center in Meriden; and St. Mary's Hospital in Waterbury. The objective was to screen patients for social needs, and connect those patients with community resources.
In early 2018, each participating hospital conducted social needs screenings, using a tool developed by a statewide, multi-disciplinary advisory group. The tool contained 10 questions about topics such as housing, education, employment, transportation, social contacts, access to food, and access to health care.
Each hospital used the screening tool in ways staff deemed most appropriate, with the goal of integrating screenings into their regular workflows. One hospital screened through its behavioral health counseling center. Another used the assessment tool primarily with geriatric inpatients. Another used it with patients who came for health care to a mobile van that serves significantly underserved neighborhoods. A hospital that planned to screen people in its emergency department shifted focus when staff realized the process worked better on patients after they were admitted.
Over a three-month period, approximately 700 patients were screened across the four hospitals using the questionnaire. Food insecurity, housing challenges, and lack of reliable transportation were among the most common problems identified through the screenings. Through a variety of mechanisms, patients were referred to community-based organizations (CBOs) that provided services including: help paying for medications; provision of bus vouchers; enrollment in the Supplemental Nutrition Assistance Program (SNAP); admission to methadone programs; restoration of home heat; arrangement for shelter and follow-up housing needs; and connection to Department of Labor services for job assistance.
Examples of the changes the new system produced:
One man who received clean socks and food also received the support he needed to move from homelessness — he walked the streets at night and visited the emergency department during the day — to living in his own apartment. He was grateful for his new home, self-sufficiency, and the regular monthly contact made by hospital staff to check on his well-being.
Two frail elderly women with congestive heart failure and other physical challenges, who were unable to cook for themselves, were connected with Meals on Wheels. They also had significant transportation difficulties that led to their paying enormous amounts for taxi service to medical appointments. A case management organization helped them find more affordable alternatives.
Several patients who had been eating just one meal every two or three days experienced improved lives and nutrition by being connected with food pantries.
Next steps
Further applying what was learned in the pilot program, the CHA board of trustees approved a three-year collaborative to build a statewide coordinated care network of health and social services providers. Through CHA, hospitals and health systems are implementing a statewide system of screening and referral that integrates social determinants of health into health care practice.
CHA is working with a company called Unite Us to develop a technology platform that will better connect patients to local agencies that help with housing, food, transportation, employment, and more. This work will include developing a resource database that is integrated with United Way 2-1-1 as part of the statewide network connecting community-based organizations to each hospital. The connection through Unite Us will also allow CBOs and care providers to find out whether patients receive services.
Beaudin says that, while most of the state's 27 hospitals are already connected with their local CBOs and involved in projects that enhance the well-being of their communities, this new collaborative still requires a major cultural shift.
"We are looking to improve health care effectiveness, health outcomes, and population health through integration of social determinants of health throughout health care practice," she said. "We know that over half of what is needed to maintain health does not happen within the confines of health care institutions."