HARTFORD, Conn. (Oct. 4, 2021) – Eminet Abebe Gurganus is joining the Connecticut Health Foundation as director of grantmaking, bringing years of experience working to advance equity in children's health.
Gurganus will lead the foundation's grantmaking work, direct leadership development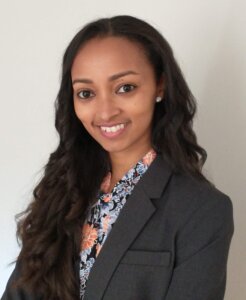 activities, and manage evaluation of the strategic plan and program initiatives.
Before joining the foundation, Gurganus served as a health policy associate at the Child Health and Development Institute of Connecticut, where she took part in efforts to improve pediatric care and early childhood services. Her work included co-leading efforts to advocate for pediatric primary care payment reform.
Gurganus also held several roles at the Office for Community Child Health at Connecticut Children's, where she conceptualized and implemented community health projects in response to gaps in the child health system and directed a quality improvement program for pediatric care providers.
Gurganus has Bachelor of Arts and Master of Public Health degrees from Yale University and is a PhD candidate in human development and family sciences at the University of Connecticut.
"Eminet is a phenomenal addition to our team," said Tiffany Donelson, president and CEO of the Connecticut Health Foundation. "She brings expertise in health systems and how they can better meet the needs of families. The insights she gained from developing and implementing programs, coupled with her strong commitment to improving the health and wellbeing of people of color across our state, will be enormously valuable to our grantmaking work."
"I have long admired the Connecticut Health Foundation's strategic, data-driven, and collaborative approach to advancing health equity through systems change," Gurganus said. "This work is of deep personal importance to me, and I am excited to join the team and contribute my skills to the pursuit of a healthier future for all Connecticut residents."
Gurganus' first day at the foundation is Monday, Oct. 4.