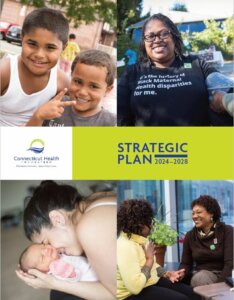 We developed the plan during a nine-month process that included research, reflection, and feedback from more than 65 people.
We looked for areas where there was momentum to advance health equity, where we could add value as a foundation, and where there were opportunities to make changes using the tools we have – grantmaking, policy advocacy, research, convening, and strategic communications.
This plan will continue our focus on advancing health equity for people of color. Similarly, we plan to continue our approach of seeking to change systems – that is, the policies, rules, and practices that affect people's ability to be as healthy as possible.
The plan has four goal areas:
Expanding health care coverage
Sustainable funding for community health workers
Maternal health equity for people of color
Fostering the infrastructure for health equity
For each goal, we identified a long-term vision, a five-year goal, and a set of objectives. We know that overcoming the inequities that lead to disparate health outcomes is long-term work. Our hope is that this plan will help us move in the right direction.
How to learn more
We will share more details about the strategic plan, and provide an opportunity to ask questions, during two webinars:
In addition, our staff will be holding "office hours" around the state in the next few weeks. These are opportunities to drop by, say hello, ask questions, or chat. You're welcome to drop in, but it will help us plan if you sign up in advance using the links below.
We are excited to share this plan with you, to answer your questions and to hear your thoughts, and to get working on it starting in January.