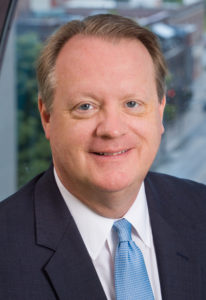 HARTFORD (Conn.) – July 18, 2016 –The Connecticut Health Foundation (CT Health) elected Gregory B. Butler as chair of its board of directors during its recent quarterly meeting.  Mr. Butler, who has served on the CT Health board since July 2006, is currently senior vice president and general counsel of Eversource Energy. In addition to serving as chair, Butler serves on the foundation's governance and public policy committees.
"As we seek to embark on a new strategic plan for CT Health, we are excited to have Mr. Butler as chair with his vast experience and business perspective," said CT Health President & CEO Patricia Baker.  "He is leading our board during a time when our state and health system are facing challenges.  We look forward to addressing these challenges together, and continuing our mission of expanding health equity."
Previously, Butler held several positions at Eversource Energy (formerly Northeast Utilities), including secretary, vice president and general counsel, and vice president of governmental affairs. He also served as vice president of federal affairs at New England Electric System and senior counsel at Niagara Mohawk Power Corporation, senior attorney with the United States Department of Justice and associate counsel to the minority leader for the New York State Assembly.
Butler serves as a member of the Board of Directors of numerous ES subsidiaries as well as the Eversource Energy Foundation.  He also serves on the board of directors of the Connecticut Public Broadcasting Network, Connecticut Public Affairs Network, Middlesex Hospital, Health Equity Solutions, New England Council and Metro Hartford Alliance.
"I am thankful for the trust instilled in me to serve as chair of the Connecticut Health Foundation and with all the dedicated board of directors," says Butler. "Improving health equity in Connecticut and changing our health care system to benefit everyone requires partnerships and collaboration, and I'm looking forward to strengthening those we currently have, and developing new ones."
Butler succeeds Sanford Cloud, Jr., a business, community and political figure, who served as CT Health's board chair since 2010.
"We are very grateful for the many years of leadership and dedicated service Mr. Cloud has given CT Health," Baker added.  "His many contributions and positive impact on the board will continue to be felt."
About the Connecticut Health Foundation
The Connecticut Health Foundation (CT Health) is the state's largest independent health philanthropy dedicated to improving lives by changing health systems. Since it was established in July 1999, the foundation has supported innovative grant-making, public health policy research, technical assistance and convening to achieve its mission – to improve the health of the people of Connecticut. Over the past 17 years, CT Health has awarded grants totaling close to $59 million in 45 cities and towns throughout the state.
In April 2013, CT Health announced its five-year strategic plan to transition to expand health equity as a focus. For CT Health, health equity means helping more people gain access to better care, especially people of color. Better care includes physical, mental, and oral health.
For more information about the foundation, please visit www.cthealth.org or contact vice president of policy and communications, Elizabeth Krause at Elizabeth@cthealth.org or 860.724.1580, ext. 14.